Why are SUP exercises a fantastic workout?
People of all shapes, sizes and ages have started paddle boarding as a fun exercise for the whole body.
If you are tired of the typical full-body workout routines in your crowded gym, paddle boarding (SUP) could be your new life-changing fitness outlet. Imagine working out in the ocean while breathing in the fresh, salty air, soaking up the warm sun and enjoying the 360-degree panoramic views of Mother Nature – that sounds like a paddleboard workout we could get used to!
Below you will find the four most common types of paddleboard exercises, plus the respective calorie-burning estimates for one hour of SUP.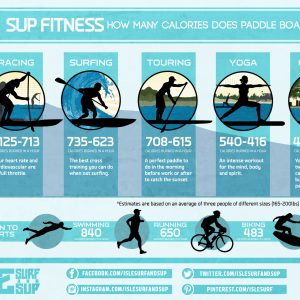 The different paddleboard exercises
With so many different types of paddleboard exercises, from surfing and running to touring, yoga and recreational rowing, we wanted to show you how many calories are burned during each type of SUP exercise. After reading this, you may decide it's time to cancel your expensive gym membership and get on a SUP.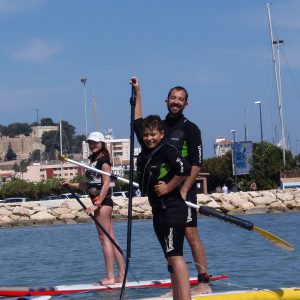 SUP Recreational
"At a typical casual rowing pace, you'll burn twice as many calories as you would on a moderate pace walk."
The most common type of standing up paddle board is recreational use, which is easy paddling with calm water, light winds at a slow walking pace. At a typical casual pace, you'll burn about twice as many calories as you would on a moderate pace walk (4 km/h). You can burn from 305 to 430 calories paddling at a leisurely pace in an hour. That sounds a lot more fun than an hour of monotonous paddling on an elliptical machine.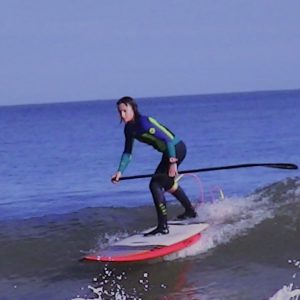 Paddle Surfing
One type of SUP exercise is paddle surfing. Surfers call it one of the best cross training you can do to improve your surfing. We measure the average number of calories burned during a paddle surfing session in Denia on a typical day from head to toe in light winds.
On average, you can burn from 623 to 735 calories in a one hour active paddle surfing session
A perfect alternative exercise and a good workout for surfers when the waves are small.
The bigger and harder the waves, the harder you work your body and muscles, (more calories burned and more muscle growth) doing a full body workout.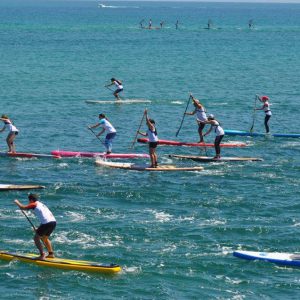 SUP Race
Racing can be the most intense exercise in standing paddle boarding. There is no deceleration and your heart rate and cardiovascular rate are at their peak.
On average, you can burn 713 to 1,125 calories in an hour of high-intensity racing.
Perfect SUP exercise for those who are competitive and like to go fast (vroom!)
The number of calories burned can vary greatly depending on the intensity of the stroke, the shape of the stroke, the wind speed and the water conditions.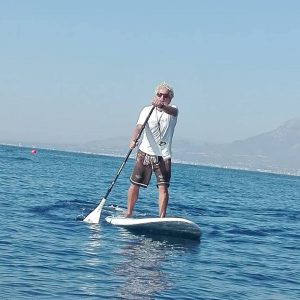 SUP Touring
SUP Touring involves paddling for long distances at a moderate pace without stopping between them. To measure the average number of calories burned, we did an hour tour in the bay of Calpe – Moraira with an average speed of 6 kmh.
On average, you can burn from 615 to 708 calories in an hour
The perfect SUP exercise for adventure seekers
It's very relaxing to go out on the water with friends and cruise the flat water after a long day at the office and burn some calories along the way.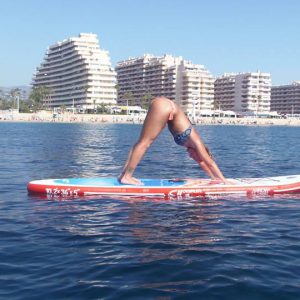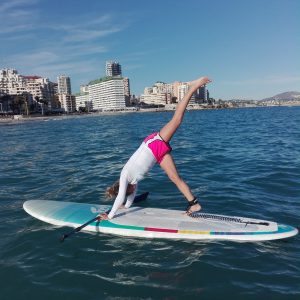 SUP Yoga
SUP Yoga can be soothing and meditative, but also stimulating and an intense training for the mind, body and spirit. Our friends Gemma and Kay in Calpe Paddle Yoga practiced a sequence of SUP Yoga exercises that lasted about an hour.
With a flow of yoga energy, you can burn between 416 and 540 calories in an hour
The wind and the constant movement of the water will add intensity to your practice
A great training alternative to the practice of Yoga in a studio
Ejercicios de SUP / Paddle Surf y calorías quemadas
El número de calorías que se queman por el remo de pie depende de lo duro que quieras esforzarte. Toma una sesión suave y de bajo impacto algunos días, y otros días, ponte la cara de juego y ve por esa sesión de bestia de alto impacto. No importa el nivel de intensidad que decidas, el SUPing te ayudará a mejorar tu equilibrio, la fuerza de la parte superior del cuerpo, el núcleo y la resistencia.
Confía en nosotros – te verás muy bien en poco tiempo (¡y súper bronceado!)